What's Newest?
🎁 And so...  the holiday shopping season begins! @LeadDreamer and I braved a big box store on black Friday — and survived! 🤠 This season's jewelry gifts are spot on  with the current trends: PEARLS (of course) and anything beaded. 
Upcoming events: ⭐️ No Roses Jewelry will be at the Studio City Holiday Holiday Night  Market Thursday, December 7th - 4:30 to 9:30pm on Ventura Place (between Laurel Cyn & Radford Ave.) Hope to see you there!
Thanks as always for finding me!
 - Lisa 
Ask Me About Custom Jewelry
What ideas do you have for your custom jewelry project? I'd love to hear your vision! Tell me your idea, when you hope to have the final piece in hand, and your target budget.
- Lisa Sirlin-Hall, Designer
More for you to love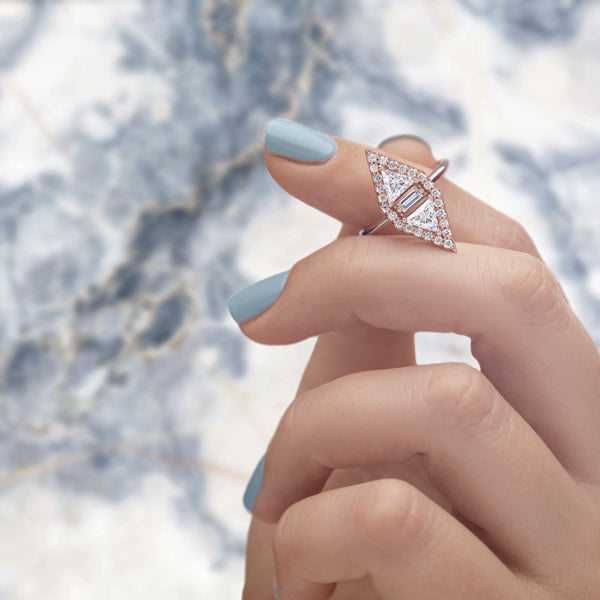 Getting hitched? There's a ring for that!

Thinking about a surprise engagement ring? Embark on your forever journey with a shared symbol of forever.

Love, anticipation, and a leap forward. The moment is finally here. Pop the question with a surprise engagement ring to the one who means everything.

Reflect on your unique bond, cherished memories, and shared dreams. Find inspiration for the perfect custom engagement ring, a symbol of eternal love. Let it capture their spirit and individuality, whether classic elegance or a unique gemstone.

Craft the perfect surprise by hiding the dazzling ring in a special place. As their curiosity grows, guide them towards destiny. Set the stage for a moment they'll never forget.

With trembling hands and overflowing emotions, express your heartfelt words. Get down on one knee, unveiling the surprise. Witness their astonishment and joy as your love story reaches its breathtaking climax. As you slip the ring onto their finger, time stands still. Embrace the overwhelming emotions, knowing this moment will forever be in your heart.

May your love-filled journey be adorned with the exquisite ring, reminding you of the incredible adventure that awaits. Start your forever with a surprise engagement ring they'll cherish forever.

Still trying to figure out where to start? Browsing is fun and commitment-free (pun intended!) Visit our interactive Design Your Own Ring section to get ideas for the perfect symbol of your love.

Are you ready to take the leap? Contact me, Lisa (BIG chat button below!) with your vision for the perfect "pop the question" moment. I'm easy to talk to, a trusted expert, and can work with most budgets. 

Already engaged?? First, CONGRATULATIONS!!! 😍 You'll probably need a couple of wedding bands. Schedule a free video appointment to discuss a set of custom bands OR pick from our selection of every-gender band rings handcrafted from Tungsten, Ceramic Metal, or Titanium. They're SWEET and have a super quick turnaround time.
What about those Pearls?

Have you asked yourself, "Where can I find expert pearl stringing in Southern California?" Do you have beads that you want to make into a necklace or bracelet? What about a strand of pearls that are stretched out or broken?

Lisa Sirlin-Hall is claimed by many Los Angeles locals as the Valley's specialist in pearl stringing, pearl re-stringing, pearl knotting, bead-stringing, fixing broken pearl strands, bead stringing, and pearl jewelry design (both traditional and modern/alternative.)

All pearl stringing is personally done by Lisa's hands with a pair of tweezers and a HUGE magnifying glass. The process is not rushed... each pearl or bead gets individual attention. 😍  It's an old-school method that ensures a luxurious and long-lasting result.

Lisa's pearl expertise is a "secret find" among L.A. stylists, top brand jewelry designers, pearl lovers, and celebrities - even top-tier jewelry design brand houses! Check out how happy Marion Ross (aka "Mrs. C" on Happy Days) is with her re-strung ninety-inch pearls necklace Lisa did just in time for a book signing tour.

No Roses' pearl stringing expertise includes:

Pearl Stringing / Bead Stringing
Pearl Knotting / Gemstone and Diamond Bead Knotting
Traditional and Alternative Pearl Jewelry Designs
Clasp Attachment
Bridal Pearl and Gem Necklaces
Necklace Resizing
Bracelet Resizing
Lengthening and Shortening
Complimentary Evaluation and Consultation
Re-stringing, Lengthening, and Shortening
Fixed Price Quotes
Rush Pearl and Gemstone Stringing for Weddings
Gemstone Necklace and Bracelet Design

Basic Bead / Pearl Stringing Prices

Lisa's professional by-hand re-stringing service prices vary depending on the length of the strand(s), size of pearls, number of pearls, price of the clasp used, and whether other types of beads will be added.

The most common are single strands, knots in between each pearl or bead that measures between 4mm and 10mm in diameter. Lisa can easily quote a price once she examines the existing strand(s), pearls, or beads through photo or video consultation.

7-12mm diameter pearls or beads: $6/inch*
3-6mm diameter pearls or beads: $10/inch*
Graduated strands (any size): $12/inch*
Complex designs or bead weaving: $20/inch**
*Price assumes a single knot between each pearl or bead using your clasp. All other designs or adding a new clasp will require a custom quote.

Pearl/Bead Stringing Q&A with Lisa Sirlin-Hall of No Roses Jewelry Studio Los Angeles

Can you work with faux pearls?

Absolutely. I can do wonders with Swarovski and glass "pearls" and even sentimental plastic, ceramic, and wood beads. I'm happy to evaluate them at no charge via video or photos. The price is the same for all beads regardless of the materials.

Do you use one of those knotting machines/tools?

I knot and string every single strand by hand (NO KNOTTING MACHINES!) The old-fashioned method takes time but ensures total control over the knots, the luxurious-looking result, and the long-lasting structure of your pearl strands.

My necklace always seems to break at the clasp - Is that a "weak spot"?

It's true, the weakest point of any bracelet or necklace is the point where the clasp attaches to the strand. To mitigate breakage, Lisa spends extra time covering the stringing material with the tiniest coiled gold or silver wire. This prevents the metal clasp from rubbing against the stringing material, making your necklace or bracelet MUCH more durable.

I lost the clasp on my pearls! Can you replace it?

Definitely! I have a small selection of clasps in stock in both sterling silver and gold filled. If you prefer 14k or 18k yellow, rose, or white gold, that can be ordered. I also have some very strong magnetic clasps perfect if you or your gift recipient have difficulty opening and closing clasps.
The traditional type of clasp used for pearls is a "fish" shaped safety clasp, because even if it becomes unfastened the hook usually still catches on the clasp for added safety, but many clasp types can be used. I can quickly quote you a price on the clasp of your choice.

How long does a re-stringing take?

My turnaround time is typically about 1-2 weeks and maybe longer during the holiday season and peak wedding season. I *can* accommodate some rush jobs, so definitely let me know right away about your timing needs.

Will knotting my pearls add length?

The short answer is: Yes. On average, for every 15 inches of beads (sizes 6-10mm) knotting will add 1 inch. The smaller the beads, the more knots and the more length the knotting will add. Our advice? Remember to calculate the length of your clasp and add another 3/8" for the addition of the end tips when figuring the final length.

One of my pearls is a bit flawed. Can my strand be shortened?

Shortening offers the opportunity to either get rid of a few flawed pearls or to remove some to use to make drop earrings or a pendant. Most of my clients hope I can simply remove a few pearls, rather than a full-restringing. This is not possible IF you want to ensure the integrity of the strand. In 95% of cases, the entire piece must be re-strung because the ends must be woven back through the 5-7 pearls or beads.

My grandmother's pearls are too short. Can you make them longer?

Lengthening with just the existing pearls can sometimes be done if pearls were never knotted - adding knots will increase the length by about an inch or slightly more. One quick alternative is to lengthen the strand with an extender chain. I can also increase the length of your pearl strand by adding some smaller pearls or gemstones near the clasp. Talk to me about your options and preferences.

Can Lisa create custom jewelry that doesn't include Pearls?

Yes! Lisa is a goldsmith and modern jewelry designer. She can work with you on engagement rings, wedding bands, special gifts, or even something unusual - whatever your options and preferences.

 
Sterling Silver Care

You're bursting with delight at the awesome artisan necklace you just purchased. It's your new "go-to" piece of handcrafted jewelry. You wear it every single day… never take it off… even at night, on your daily run and in the shower. 

Sadly, after a couple of months, you notice your favorite shiny accessory has lost a bit of its luster. But… what can you do about it? How do you find its inner shine again without resorting to toxic chemicals? 

Fear not. Here are several great tips for keeping sterling silver jewelry looking great. The first step is to inhibit tarnishing.

1. Avoid sterling.


What?????? We hear you. But you LOVE sterling silver! White gold is nice, but oh-so spendy. If your local artisan shop knows its precious metals, they will likely have some (if not all) of their silver designs fabricated with Argentium silver. It's real silver, but that teeny-tiny bit of tarnish-loving copper that makes sterling… well… sterling, is replaced with germanium. Germanium and oxygen are a true love affair on a bed of silver. Together they can all but banish tarnish. Ask for Argentium whenever possible.

2. Zip it up!

But what about all that awesome sterling you've already bought? Easy. Store your sterling silver jewelry in zip-style baggies. You know… the kind you buy for sandwiches? They're affordable, easy to find and perfect to keep your semi-precious metal jewelry from coming in contact with oxygen and moisture - it's two most evil adversaries. They're also super convenient for travel.

3. Take it off. Take it all off.

We know you love to wear your "signature" necklace all the time. But really… take your jewelry off every night, before showering and swimming. After you remove it, take an old t-shirt and just give it a quick wipe to remove your natural body oils, fragrances and lotions. Now see tip #1. Seriously, it's your best defense.

If you aren't the type to embrace preventative routine or simply don't have the time, here are several tips for

cleaning your silver, safely and organically.4. Brusha-brusha

This is for light tarnish. Take your favorite minty toothpaste (paste… not gel or whitening strips) and rub with a clean t-shirt onto your sterling silver. Rinse and dry.

5. The Big Soak

Mix 1 cup of boiling water, 1 tablespoon of salt, and 1 tablespoon of baking soda together. Then slowly pour the mixture into a foil lined pan. Slowly add the 1/2 cup of vinegar, place jewelry so each piece touches the foil. Let sit for 5-10 minutes. Rinse in water and dry. Buff with a clean t-shirt. Love that shine!

6. Ionic, not Sonic.

If you have a lot of silver jewelry that includes beads, crystals, gemstones or diamonds and you want to make sure the color stays bright and safe… go online and buy an ionic cleaner. Do NOT buy a sonic cleaner - that technology uses vibration to remove dirt and might harm pearls, turquoise, opals and other soft stones. Ionic is like magic. It's just soap, water and electricity. Immerse your jewelry piece, press a button, watch the bubbles and VOILA! Like new.Our only recommendation for an ionic cleaner is the

Speed-brite Ionic Cleaning System

- it's totally safe, delightfully organic and works like a shining dream.